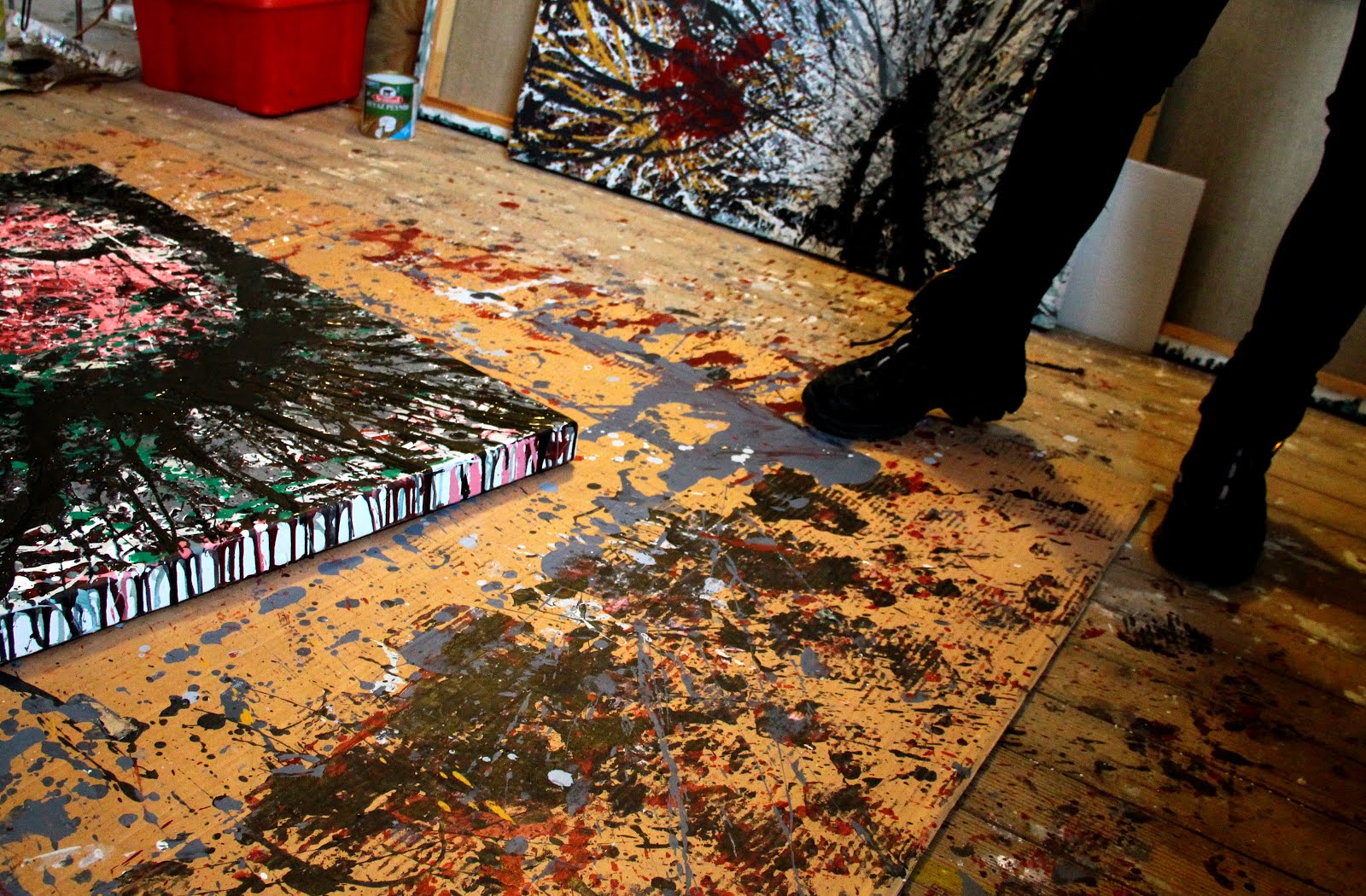 Bio
Hüma Birgül was born in Istanbul and she is based in Rotterdam.

After graduating from"French High School Notre Dame de Sion", she studied Fine Arts/Painting at Mimar Sinan University in Istanbul. In 2005 she moved to London, where she studied Art Direction for Film at St. Martin's Art College and Make-up&Special effects for Film&Theatre at Westminster College.
She always continued to practice her art while doing other jobs like working on the movie sets as a set decorator, costume designer, art director and make-up artist if to mention few of her side jobs.
She has exhibited internationally and her works can be found in collections in Turkey, Greece, Germany, United Kingdom, France, Japan, Netherlands… She is a member of A.I.A.P Unesco and "CBK & Art Office". She is also part of the international art group: "TAOP/The Act Af Painting.
And… also… she keeps writing and writing and writing, at an 'unknown/soon',something like a book may appear to be seen, read, felt, discovered…
EDUCATION AND RESIDENCIES
2021  Sachaqa Centro de Arte- San Roque de Cumbaza/Peru
2012 Foundation B.a.d / Rotterdam
2012 Foundation NAC/ Rotterdam 
2011 Foundation B.a.d / Rotterdam
2006 Dalston Underground- Unit B Studios / London
2005 WAES (Westminster College)
BTEC Special Effects and Make Up for TV / Film / BTEC Hair Design and Face Painting/ London
2005 Central Saint Martins College of Art and Design – Art Direction for Film /London
1994-2000 Mimar Sinan University, Academy of Fine Arts / Istanbul
Department of Painting, Sukru Aysan and Cihat Aral Studios.
Engraving, Asim Isler Studios
SELECTED EXHIBITIONS
2022 "Kunst Crisis 010" Gallery Niffo/Group exhibition Rotterdam 
2022 "Thank you Vuslat Abla" /Growing Space/ Solo exhibition-Installation Rotterdam view

2022   "Brug – Brücke"/Bochumer Kulturrat /Group exhibition Bochum  view
2021 "100 kunstenaars en 100 dichters op Katendrecht" / Werklicht
Fenix I/ Group exhibition Rotterdam
2020 "What does home mean to you?"/ Growing space/ Duo exhibition Rotterdam
2019 Foenix-Zwitsal/ Solo exhibition Apeldoorn
2019 Gallery Niffo/ Solo exhibition Rotterdam view

2018 "Potatoes, coming home"/ Gallery Niffo/ Group exhibition Rotterdam
2018 "Charlois speciaal"/ Open studio Rotterdam
2017 "Now& Then"/ Gallery Neck of the Woods / Group exhibition Rotterdam
2016 "TAOP- Gestural Works"/ Gallery Niffo/ Group exhibition Rotterdam view

2016 "Charlois speciaal"/ Open studio Rotterdam
2015 "Connected Spaces"/ Gallery Niffo/ Group exhibition Rotterdam view

2014 " The Act of Painting"/ Casa Sakanoue / Group exhibition / Hiyoshi
2014 " The Act of Painting"/ Gallery Valeur / Group exhibition Nagoya
2014 " Salon der herinneringen"/ Gallery Niffo / Group exhibition Rotterdam view

2014 Honorary Consulate of Turkey/ Solo Exhibition Leiden
2014 "The Act of Painting" /TAC Temporary Art Center/ Group Exhibition Eindhoven
2013 "The Act of Painting"/ Tetem Kunstruimte / Group Exhibition Enschede
2013 "Dialogen" / Gallery Pand Paulus/ Group Exhibition Schiedam
2013 "Passage from North to South"/ Werklicht Expose /Group Exhibition Rotterdam
2012 "Three Channels" / BuroRotterdam /Group Exhibition Rotterdam
2012 "Open Studio" / Foundation B.a.d Rotterdam
2012 "Universal Sapience"/ Goethe Institute/ Group Exhibition Freiburg
2011 21. International Istanbul Art Fair /TUYAP Convention and Congress Center/ Group Exhibition Istanbul
2011 "100 Young Faces"/ International Art Center / Group Exhibition Istanbul
2011 "Art in Akmerkez 7" / Gallery Tunca Sanat/ Group Exhibition Istanbul
2011 "Festival Wereld van Witte de With" / Open Studio / Foundation B.a.d Rotterdam
2011 "Festival Wereld van Witte de With" – Performance: Tracking Rotterdam / Gallery Blaak 10 Rotterdam
2011 "Manifestos" / De Witte Slagerij / Group Exhibition Rotterdam
2011 Solo exhibition / Hush Gallery Istanbul
2010 Solo exhibition / Gallery Artist Çukurcuma Istanbul
2010 3rd International Symposium of Painting / Group Exhibition Patras
2009 Gallery ÇukurcumART/ Group exhibition Istanbul
2009 Istanbul Art Fair/ TUYAP Convention and Congress Center/ Group exhibition Istanbul 
2009 Bakraç Art Gallery/ Group Exhibition Istanbul
2007 17th Istanbul Art Fair / TUYAP Fair Convention and Congress Center/ Group Exhibition Istanbul
2006 Solo Exhibition / Gallery Z London 
2005 "The Washroom Projects" / Hackney Empire Cultural Center/ Group Exhibition London  
2005 State Painting and Sculpture Gallery/ Solo Exhibition Istanbul
2004 Solo Exhibition / Gallery Teoman Unsal Mersin
2003 "Kooperatif" / Roxy Art Club/ Group Exhibition Istanbul
2003 8th International Cultural Symposium/
Ege University Cultural Center/ Group Exhibition Izmir
2002 7th Navy Commandership Art Exhibition / Gallery of Navy Museum/ Group Exhibition Istanbul
2002 63. Juried Exhibition of state / Group Exhibition Ankara
2002 Tripudio Art Studio/ Group Exhibition Istanbul